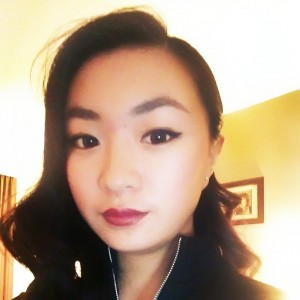 Secretary | Historian
About Me
Class: Pi Chi | Spring 2016
Hometown:  New York, NY
Current Place of Residence: Washington, DC
Ethnicity: Chinese American
Major: Biological Sciences
Minor: Chinese Language & Literature
Year of Graduation: 2019
Occupation: Student
Big: Bella "LilYeva" Ge
Hobbies/Interests: I like to play tennis, swim, dance, hand crafts, as well as read (but who has time for that anymore?). As for interests, animals, asian culture, learning languages, and FOOD. My favorite genre of entertainment is adventure/fantasy/sci-fi because it lets me escape reality and live in a more magical world where impossible things are possible.
Personal Statement
I am a Chinese American born and raised in the diversity of New York City. I may indecisive on details but I work hard towards what I know I want. I am the youngest of my line, but I take pride in myself for being mature for my age. Wisdom is learning through others and I try to strive to be that. I grew up in an all female family, but also independently.
My sisters would describe me as true to myself and always speaking my mind, which is true because you cannot be better as anyone than yourself, and I share my thoughts to share myself with others. Though I am stubbornly myself, I have a open mind towards others and is accepting of others.