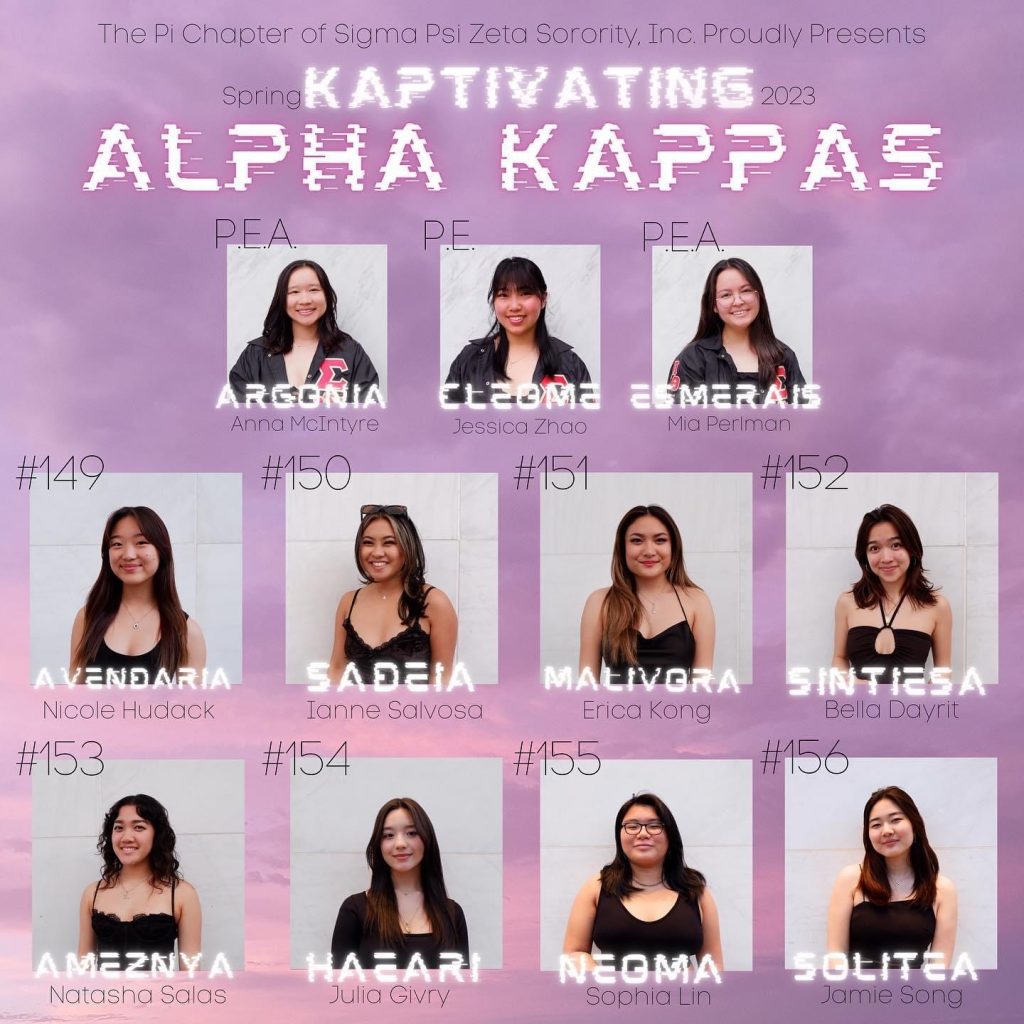 #149 Nicole "Avendaria" Hudack
Big SYZter: Lucia "Arylaeis" Hwang
Why Sigmas? "i wanted to find a community of asian/asian american women and reconnect with my korean roots. i knew sigmas was right for me when i met all the girls and we clicked right away <3"
#150 Ianne "Sadeia" Salvosa
Big SYZter: Katarina "Salenza" Nguyen
Why Sigmas? "i never had an asian community growing up so i really wanted to have one in college. i immediately loved the vibe of everyone in sigmas and felt very strongly about the philanthropy. i loved the idea of growing in my asian identity and helping other women do the same."
#151 Erica "Malivora" Kong
Big SYZter: Shri "Azataia" Arulmani
Why Sigmas? "i wanted to join a community that celebrated my cultural identity and provided space for asian/asian american women!"
#152 Bella "Sintiesa" Dayrit
Big SYZter: Liaa "Sitala" Fernandez
Why Sigmas? "I first was drawn to sigmas through my multicultural dance team while looking for a community of Asian/Asian-American women that I felt I could connect to. After getting to witness sigma's comforting welcoming atmosphere and meeting all the sisters, I knew sigmas was the right one for me"
#153 Natasha "Ameznya" Salas
Big SYZter: Samar "Azystellaes" Baig
Why Sigmas? "I wanted to find an Asian-American community on campus, so I went to the recruitment events and liked all of the connections I was making with current syzters—as well as the numerous other benefits that being apart of this organization holds."
#154 Julia "HaeAri" Givry
Big SYZter: Anna "ArgoNia" McIntyre
Why Sigmas? "I joined sigmas because it was a community that allowed me to surround myself with those who have similar values to myself as well as a place to share cultural experiences <3"
#155 Sophia "NeomA" Lin
Big SYZter: Mia "EsmeraiS" Perlman
Why Sigmas? "Coming into college, I knew I wanted to join a community of other Asian/Asian-American people. Sigmas had that community and advocated for many movements and ideals I wanted to embody."
#156 Jamie "Solitea" Song
Big SYZter: April "Sovari" Park
Why Sigmas? "I wanted to join an inclusive community of strong Asian American women."