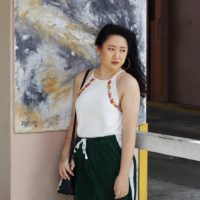 ABOUT ME
CLASS: Pi Alpha Beta | Fall 2017
HOMETOWN: Nanjing, China
ETHNICITY: Chinese
MAJOR: Psychology & Business Administration
YEAR OF GRADUATION: 2020
occupation: Student
BIG: Ellen "Chrysós" Zhang
HOBBIES/INTERESTS: Read, eat, go to the gym as frequent as possible, study fashion trends
If you could travel anywhere in the world, where would you go and why?: I would go to Europe because I have never been there and it attracts me with its art & food, Italy specifically.
Personal Statement
Knows who I am, what I want and always on my way to a better self.