Written by Michelle "Sidereal" Xiao
While promoting our philanthropy event Take Back the Night (TBTN) as part of our Domestic Violence Awareness campaign in the fall of 2015, I was greeted with strong enthusiasm, support, as well as curiosity from my fellow friends. The question that I encountered the most was "What exactly is Take Back the Night?" I took it as a sign to do more research about the history and the significance behind this internationally well-known campaign.
What is Take Back the Night?
Take Back the Night (TBTN) is an internationally-held rally intended to protest directly against sexual assault and other forms of violence against women. Since 1975, TBTN events have been held on college campuses, often in the form of candle light vigils, to honor the survivors of sexual assault and to educate participants about issues related to sexual violence. Take Back the Night enables women participants to publicly express their anger towards sexual violence in the society and create a safe environment for survivors to share their stories and heal the wounds.
History of Take Back the Night
"A woman walks alone down a dark, deserted street. With every shadow she sees and every sound she hears, her pounding heart flutters and leaps in her chest. She hurries her pace as she sees her destination draw closer. She is almost there. She reaches the front door, goes inside, collects herself, and moves on. The lock she secures helps her to forget-at least for tonight-the gripping fear that momentarily enveloped her. "
The origin of Take Back the Night may lie in 1877 when women protested the fear and violence they experienced in the nighttime streets of London. Others believe that the first TBTN rally occurred in 1976 when women protesters lit candles and took to the moonlit streets of Belgium to denounce the violence against women. While the origins of Take Back the Night may be disputed, its impact is undeniable. Although not all women experienced sexual assault, we are all potential victims and witnesses. Since very young, we are told not to walk alone and go out after dark, to avoid strangers, and to avoid dangerous areas of town. Yet, unfortunate things still happen on innocent women, and dark night becomes an insuperable fear to many. These nighttime TBTN events purposed to change darkness from a time of fear and predation to one of safety. Since its inception, thousands of marches and rallies bearing the name Take Back the Night have taken place worldwide. Today, marches are held in not only in numerous cities in the United States, but in Canada, Latin America, India, and Europe.
Sigma Psi Zeta Take Back the Night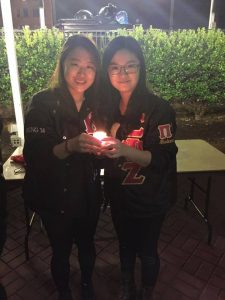 Ever since 1994, Sigma Psi Zeta sorority has upheld our national philanthropy of combating the violence against women, and has been an active leader in organizing various philanthropic events on campus to raise awareness on domestic violence against women. Every year, we organize Take Back the Night candle light vigil to unite women on campus and encourage feminists and survivors to reclaim agency over their stories by sharing them and then acting on that empowerment by taking to the streets.
This year, our Take Back the Night event will be held on April 4th (Tuesday) at 7:30PM at Kogan Plaza. We will feature GW Sirens, the Feminist Student Union, A/PI DVRP, My Sister's Place & more. Come light up the dark together with us!