This week's Sister Spotlight features our very own Tiffany "cantabiLé" Chai! Tiffany has worked hard representing Sigma Psi Zeta on campus by being Vice President of MGC (the Multi-Cultural Greek Council) her Junior year as well as serving as President her senior year! She was Vice President of Sigma for a year and is one of our most active sisters – a part of District K as a choreographer, Hawaii Club, and more! With her last semester as a GW undergraduate is coming to a close we wanted to put the "spotlight" on Tiffany~ We are so grateful for all of her hard work and care that she puts into our sisterhood. Learn more about her love for Japanese Culture and why she decided to join a sorority her freshman year!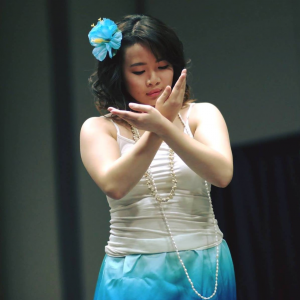 Question 1: What has been the most challenging and rewarding part about being MGC President this past year? You are very active both in Sigma and the MGC Community, what do you enjoy most about being part of these organizations?
The hardest thing about being MGC president was working with the MGC community, the Greek Community, and the administration. Being pulled three ways while being in my last semester of undergrad made me really stressed and tired. Though it was rewarding in the end to see the MGC community work together. It was also great to be able to say hi to people you know when you're walking to class :D.
I love how Sigma gave me a home away from home. The sisters are super supportive and we love to bring each other up. We're so diverse to the point that I learn basically something new everyday. The MGC community is great because it's full of great people who come out to events you put on. I love to see Sigma and MGC interact because they are both organizations I care about so much.
Question 2: What do you plan to do with your degree, Bachelors in Accountancy with your minor in Computer Science? How do you balance your heavy academic load along with all of your extracurricular activities?
I would love to be able to go into forensic accounting. My background in Accountancy and computer science allows for that. Actually, I don't really know how I balance everything. I sleep a lot later than usual though (and it's very bad for my skin). But I don't regret taking on so many positions and responsibilities because I like pushing myself to see what I really can do.
Question 3: K-pop dancing — when did your interest in K-pop first spark and when did you start dancing? Share with us a little bit more about your experience as District K's choreographer.
I used to not like K-pop a lot because I was influenced a lot by Taiwanese pop and J-pop. My friend in middle school basically made me listen to K-pop with her everyday in school, so I got very much into it afterwards. So funny story about dancing, I never really liked dancing pop before because I used to do ballet (then quit and did volleyball). I used to like classical things rather than pop. I got into dancing in District K because the founders of District K asked me to help out. One event led to another and voila, became a choreographer. I love District K because of all the friends I made, and I was able to find a litto from District K! Although it's really tiring, I really do enjoy myself.
Question 4: Can you describe your love for Cosplay and interest in Japanese culture and anime/music?
Ooh, well, one of my aunts is Japanese, making my cousin half Japanese and half Taiwanese. I used to hang with him a lot, but not that I don't really go back to Japan a lot, I haven't seen him a lot. I was influenced by them to basically have an appreciation of Japanese Culture. I tried to learn Japanese as a child, but, that didn't work out. I started getting into anime when I started to watch Miyaziki films like Spirited Away, Totoro, and Kiki. I loved the drawings and it was just so beautiful. From there, I started to basically watch anime (mostly for the artwork). I used to be the type that didn't watch anime unless the drawings were pretty, but now, I've been basically reading manga that sparks my interest. I started getting into Cosplay when my friends got me to go to an anime convention with them after high school. I was so intrigued by how people could transform themselves into anime/cartoon/game characters that I wanted to try doing it myself. It's hard, but I made some great friends because of Cosplaying. For Japanese music, well, I guess it was from watching anime and liking the theme songs of the anime.
Question 5: Why did you initially join Sigma and how do you feel it has impacted and/or changed you and how do you feel that you have impacted Sigma these past couple years?
Well, I was about to transfer to UMCP because I didn't really enjoy my first semester in GWU. My older sister told me to go rush, cause maybe I'll find a reason to stay. So I did. I rushed the first sorority I saw (didn't really know what I had gotten into), got in, and never regretted my decision. Sigma has made me a lot more confident in myself. I used to be really shy and I hated to be in front of people, but joining sigma allowed me to get out of my comfort zone and take risks. As well, I gained many great friends and sisters who are all so very supporting of me.