This week's Sister Spotlight is Pauline "Azahar" Kim, a Pi Chi Spring 2016 sister we can always depend on to be bright and optimistic at any moment! And I'm not being biased because she's my Little. People who know her will probably tell you about her love of Korean pop music, dramas, and food. Her beautiful and caring personality comes from her faith and her family. Meet Pauline in the interview I had with her below as she shares how she feels with her personal family and her Sigma family!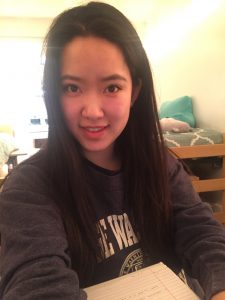 Question 1: As an Asian-American, you are very vocal about your pride in your Korean heritage. For many Asian-Americans, assimilation to American culture and rejection of their Asian heritage seems to be the easiest route in order to "fit in." Why do you think you have maintained your love for your heritage? How do you see yourself? As more Korean or as more American?
I don't think that I ever felt a need to "fit in" in regards to my ethnic identity, but I definitely became more in-tune with my love for Korean culture when I was in middle school. I first got into Kpop, by watching Super Junior's 'Happiness' music video on YouTube. In seventh grade I met my good friend Bohyun and would always fangirl about my love for different Kpop groups during our morning bus rides, the latest Kdramas – Boys Over Flowers was a popular one when I was in middle school, or just talking about different Korean foods that I loved. I became fascinated by Korean beauty and skincare when I was in high school and the love has carried on till now. I don't perceive myself as more Korean or American and am proud to be a Korean-American, but definitely listen to more Korean music than American music, but still love American 'stuff', like TV shows, movies, and some music.
Question 2: In your life, faith has a huge role in defining your identity and you've recently become more active with GW's Intervarsity with Paulin. How has your relationship with God and your faith developed? Did you ever hit some rocky moments?
It has definitely been a journey. Just when I feel, what more can I learn? What more hardships are there to face? Or think to myself, wow, I have grown quite a bit, how much more can I possibly grow in my faith? God places new challenges in my life and continues to show Himself and His grace wherever I am, whether it was during my senior year of high school, or my freshman/sophomore years of college.
I came to college feeling that I was already quite spiritually mature for my age, little did I know that I had many more experiences and challenges that I was going to face. But in the end, these hurdles have shaped me into the confident, positive, grateful person that I am today.
I truly believe that God placed Paulin in my life for a purpose, though it was not clear to me when I first came to GW, it became more clear to me last semester (my Fall semester of my sophomore year), when I was at one of my 'low points' in my relationship with God. I was idolizing my schoolwork, grades, future goals and aspirations and were letting these worldly goals lead my life. This was when Paulin and I had our first 'disagreement' and were not on the best of terms with each other. But through her guidance, I became more involved with Intervarsity and went to Fall Retreat, which is when I started to open my heart a little bit more to the Christian community, something that was really lacking in my life. I believed that I could do life on my own, trusting in God, but little did I know that that is not the way in which God wired us to live. He created us to trust in Him and Him only, but to also surround ourselves around community, around people who would encourage us and would help keep us on track in our relationship with Him.
Paulin has been my mentor here at GW, and even though I was resistant at first and even actually denied her suggestion (how ignorant I was as a freshman…) I am so thankful that God blessed me with her because she has guided me especially when I was close to or made 'bad' decisions that are not edifying Him.
Question 3: You are a person that really cherishes family and your family is your most important support system. Why do you think your family is so uniquely close?
To put it simply, it is because of our foundation in Christ. I was born and raised in a Christian family and I have always looked up to and respected my parents, even when I was being a 'rebellious teenager', my love and respect for my parents has never faltered. It would probably have to be because of how loving, kind, generous, genuine, patient, hardworking, intelligent and wise they are. I am proud to be my parents' daughter because they have taught me more through their actions and their words, with a little bit of disciplining sprinkled in there, maybe a lot, because I was a disobedient kid lawls. But in the end, growing up and watching my parents, they have shown me through the way in which they live their lives, how to live for Him, trusting in Him in all that they do.
My older brother Ed, who is eight years older than me is like a third parent to me. He is what one would call the 'star student' – did well in school, very liked by both classmates, teachers and parents for his amiable and sincere personality. He has been my role model since I was a kid – I was known to be Ed Kim's little sister at our school, even long after he graduated. More than being proud of having a very intelligent or for lack of a better word, 'popular' and kind older brother, he was an even more caring brother, since the very beginning. He always took really good care of me and still does to this day. He would get me hot chocolate from the school cafeteria when I was in elementary school and he in high school, when we had early snow dismissals. When I was in high school he would always edit my papers and eventually helped me with my supplement essays. These are just a few ways to illustrate my brother's character, but do not amount to how much of an impact he has had on me in my life.
Question 4: In what ways is your Sigma family like and/or unlike your personal family?
My Big, Kelly: My relationship with Kelly is very unique and is a bond that we have developed over time. I feel that maybe one reason why I feel so comfortable and safe around her is because she is so generous with her love. She is a genuine, kind-hearted person that I can trust. She definitely broke the ice in the beginning by showering me with gifts, but over time she gave me a gift that can't be bought with money, as cheesy as it sounds >< She has been and is like a big sister to me, very similar to my older brother Ed, and it was confirmed that her unique character runs in the family when I met her twin sister Josefine back in June for my 20th birthday. Both Josefine and Kelly have very similar interests as my brother. And my relationship with her is definitely one of the highlights of my college experience thus far.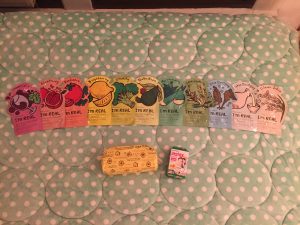 My line-sisters: My line sisters inspire me with each of their unique personalities and characters. Though I cannot think of specific ways in which they are like/unlike my personal family, I just want to highlight the ways in which they have each impacted me:
Elise: Our ace who is very in-tune with her emotions brings her own unique character to our line and I have been able to learn from her and how she cares for the people around her. She is such a caring line sister and big to her twins.
Nanami: Nanami is a sister who traveled all the way from DC after her first day of her internship and squeezed in a car with four of our syands from GMU PDPsi to come all the way to Pennsylvania for my 20th birthday, back in June. Even though we weren't 'really close' at the time, it really warmed my heart that she came all that way to celebrate my birthday with me. She is a sister that is super hardworking, kind and understanding and very humble about how well she excels academically.
Priscilla: Our hot and sexy SABER~ Priscilla is someone that has always stuck out to me – she always wanted to make sure that I was feeling 'included' when there was some minor conflict with me and my line. She always made an effort to reach out and call me by the cute nickname that she made for me – Paul Paul.
Hanna: Hanna and I have not had the closest relationship in Pi Chi, but overtime as I get to know her more, I see how caring and loving she is with her family, her boyfriend and Pi Chi. She is always stepping up and taking on multiple positions even though she already has a lot on her plate. She is definitely a sister to look up to – there are a lot of sisters who do a lot for the sorority, but I realize that I sometimes overlooked how talented she is with her art and her event planning that Sigma is very lucky to have her and that I am very blessed to have Hanna as a line sister.
Christine: Christine is a super hardworking and is a dedicated sister. Her strong-willed and straightforward personality is something that is definitely unique to her, but brings balance to our sisterhood as a whole. I am in awe when I see her balancing all that she juggles, her demanding schoolwork, Sigma, social life and jobs.
Natalia: Natalia and I bonded during the first rush event through making rainbow shots and remember how easy she was to talk to and how excited we were, messaging each other about how we hoped we could become line-sisters before we even interviewed>< She is our confident and passionate Stormborn.