Paulin is part of the Pi Upsilon class that crossed in Spring of 2015. She is our Philanthropy Chair for this semester and is planning our Fifth Annual Sweetest Day Banquet! Not only is she a hardworking Sigma sister, she is also the President of Intervarsity, a non-denominational student Christian fellowship.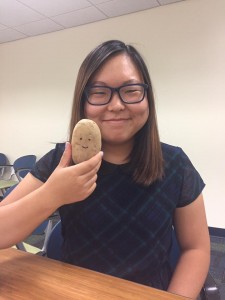 Question 1: Can you tell me about how you came to know Intervarsity, what it means to you, and your role as president?
I'm the president of Intervarsity for this year and I joined my freshman year. I've been an active member and leader since my sophomore year. My brother was involved in it on his campus at Johns Hopkins. He knew some people here at GW and introduced me.
I came to meet people but I also felt the people I met challenged me to view Christianity differently from how I viewed it growing up. I grew a lot and I feel like I'm still growing. I really felt that through Intervarsity and the people I met, God challenged me to think differently about Christianity in all aspects of my life. I feel very connected to the community.

Question 2: You're planning the Fifth Annual Sweetest Day Banquet! Tell me about how putting together such a huge event has been for you.
It's sometimes hard to incorporate event planning with a vision because you want your vision to come through but there are some logistical obstacles. I would say that in spite of those challenges, for me as the Philanthropy Chair, the motivation for it is knowing why we started this tradition and not only what it means for this chapter, but also for our philanthropy.
Although there have been challenges, I have enjoyed being able to collaborate with the GW community and the greater community at large. I hope that people who come will not only see how hard our sisters have worked on the details of the event, but also that we strive to raise awareness about domestic violence and care deeply about this.

Question 3: What made you interested in our philanthropy?
I care deeply about caring for people and I think that Sigma's philanthropy does that. It's about caring for people but it's also about empowering women. It's a very powerful combination of women empowering other women but also caring for the needs of other people.
We as women need to empower each other and build each other up. I feel like this cause is really something that strives to do that. It really relates to our mission and image of Sigma. We are a feminist organization and this philanthropy makes that clear. It shows that we're taking active steps to stand for feminism in all aspects.

Question 4: Sisters always describe you as one of the most caring and understanding people they know. What do you think about that and what do you think makes you such a kind person in other peoples' eyes?
Awww. I am very humbled by that. I think that a lot of that comes from personal experience of knowing what it's like to be alone and to struggle with feeling lonely. I think that a sisterhood stands for backing each other up and I think that everyone expresses love and care a little bit differently. I think the way I express that might me more apparent to people, but it does not make it the only way.
I actually attribute a lot of my actions to my religious beliefs and my relationship with God. I think that when I really strive to love people in all aspects, a lot of that comes from the Bible. A lot of what I strive to do is motivated by my beliefs. I can be mean sometimes, though!

Question 5: I what ways have your beliefs and your relationship with God helped you grow as a person?
In my character, it's helped me to just serve and love other people well. Before, when I was growing up, going to church was out of habit. My spirituality very much exploded at the end of high school and coming to college. That was when I started really to take ownership of my faith in the sense of thinking about it more and applying it to all aspects of my life.