This week's Sister Spotlight is Mai "Lysithea" Tran! This is her first semester as a sister as an official Sigma, and in my interview with her she reflects on what being a Sigma has meant to her! Read more below about her love for cooking and why she is freaked out by turtles!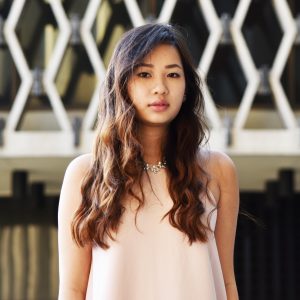 Question 1: How is your life in Lancaster, PA different from your life in Washington, D.C.? What do you enjoy most about both?
Lancaster is a small town, so living in DC is pretty much living in a whole new world. I think the biggest difference is probably the pace of life – you can see out on the streets that everyone in Lancaster takes their time to walk and talk, whereas in DC, everyone is rushing to go somewhere. For DC, I definitely enjoy that there is always something fun to do. For Lancaster, I'd say the nature and familiarity – there's somiething peaceful about the quiet town life.
Question 2: What made you decide to join Sigma? What are you looking forward most to gaining/giving to the
Chapter/Sisterhood? How would you sum up your Neo semester?
I wanted to join Sigma because I saw the sisters as examples of strong women that I would want to aspire become. Everyone is so involved in the campus community as leaders, and I really wanted to join that special network and contribute my individual experiences and skills to the chapter. My neo semester has been rough, but it has really shown me the value of being in the sorority. So many sisters have reached out to me and have been there for me through the rough times which is truly touching and shows how strong the bonds of sisterhood are.
Question 3: Why are you scared of turtles?
I don't like looking at their faces.
Question 4: Tell me more about being the President of VSA – have you always identified with your Vietnamese heritage since you were young?
Up until college I never really identified with my Vietnamese heritage, because there were very few Asians in my high school. However, when I started college, VSA was the first organization that really welcomed me into the family. It holds a special place in my heart because it has taught me to step out of my comfort zone.
Question 5: You enjoy cooking, Tell me more about when you first started cooking, dishes/cuisines that you enjoy/are best at cooking, from whom or how you first learned to cook?
My mom worked as a chef for two years, so I think cooking runs in my blood. I usually like to cook Vietnamese food, and can make anything but Pho (sorry!).
Question 6: Your music, fashion, makeup, movie, book interests?
Music: My favorite artist is Halsey
Fashion: Not big on fashion LOL I just wear whatever is comfortable, though I shop mostly at Brandy Melville, Urban Outfitters, and PacSun
Movie: I don't watch movies/TV
Books: My favorite authors are Vladimir Nabokov and Haruki Murakami