Written by Pauline "Azahar" Kim
Kelly is part of the Pi Tau class and crossed in Fall of 2014. She is our Webmistress this semester and was also Publications Chair and Warden last semester (Fall 2016) – three positions in one semester! She excels in her academics and has held an internship or job every semester since her freshman year. She is known for her quirky, bright and genuine personality.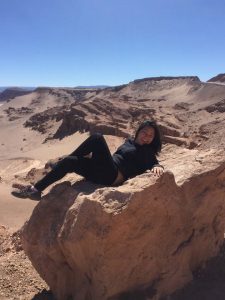 Question 1: How did you first get interested in web-design and how did you teach yourself how to design the GW Sigma Psi Zeta website?
I actually got started getting into web design and graphic design by being on Neopets back when I was about 8. Neopets was great in that you could have full control of the look and feel of your profile page and they allowed you to put in your own coding and images. I was amazed by how people could make their profiles so unique and beautiful and wanted to learn how to do the same. So I basically studied source codes from different profiles and layouts and learned from there HTML and CSS. I remember getting really into learning how to use Adobe Photoshop too and begged my dad to get it for me for my birthday. Yeah, I was a nerdy kid. Actually, not much has changed.
It was not too difficult of a transition from there to using WordPress, which is what we use for the website. I just use a template and adjust the coding to how I like for specific pages. I did have to do a lot of Googling in the beginning to figure out plugins and how to navigate WordPress though. It's definitely not as user-friendly as other web-hosting sites like Wix and Squarespace.
Question 2: What made you decide to pursue a double major in International Affairs and Economics and what do you plan to do with this degree?
I came to GW because of the International Affairs program. In high school, I loved learning about world history and have always been interested in the world beyond the United States. I've always had thought in a big picture kind of way so I was naturally drawn to IA. For economics, I loved AP Microeconomics in high school and economics is such a necessary part of IA studies. It only seemed logical to take that on as a second major. Plus, my parents wanted me to have a more bankable sounding second major, so there's definitely a financial stability aspect to it.
I want to be able to influence the world in a positive way, which is why I love studying IA and my concentration, International Development. Right now, I'm looking into careers in development consulting, research positions and program assistant positions for development organizations, and human rights advocacy work. I loved interning at Amnesty International last summer and it would be amazing if I could end up somewhere like that in the future.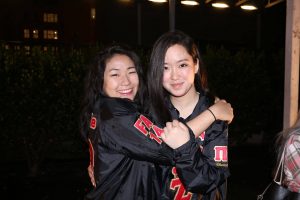 Question 3: What are your goals for your last three months as an undergraduate student?
Find a job, do well on my economics thesis, work out more, eat healthier, make the most of the remaining time I have left at GW and with Sigma, and HANG OUT WITH MY LITTLE, PAULINE!!
Question 4: In what ways do you feel that you have contributed to Sigma since you first joined in Fall 2014?
I think the biggest thing I did was revamp the website. That took hours and hours to do because for many pages I had to start from scratch, and I'm still working on more changes. On a more personal level, I try to be supportive of all the sisters and you can always depend on me to help people out. Honestly, I think Sigma has given me more than I've given Sigma and I am grateful for that everyday. Also, I'd like to think that my weird and crazy personality brightens people's days. But maybe I'm being too hopeful hahaha!
Question 5:  Is there a particular trait or lesson that your sisters have taught you or a way in which they have influenced you as a person?
Sigma has helped me understand myself better as a person. Being a sister has really challenged me to get outside of my comfort zone and try new things. More importantly, it has challenged me to reevaluate myself and to be a better person for the sake of the other sisters and for the sake of my Little. I've learned a lot these past few years about working with and getting to know so many amazing people, each with their own unique personalities. Because of that I feel like I am so much more ready to take on the world than I was as a Freshman.