Meet our amazing Alumnae Chair, Eve! Hailing from the Fall 2014's Transcendent Taus (my line sister!), Eve has proven that she follows her heart, takes chances, and isn't afraid to try new things. In her hometown, she's basically a rockstar because she ventured all the way to the US for college, something that is almost unheard of in her community. She LOVES taking photos, her dog, taking photos of her dog, big balloons, the Winchester brothers, her big, Alex, and her little, Hanna. She's also a wonderful artist and is studying Interior Architecture and Design! Check out some of her works below!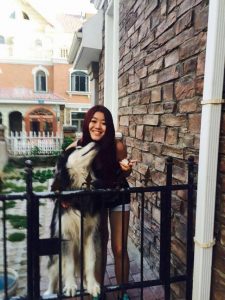 Question 1: You're from Inner Mongolia in China from a town where not many people venture out. Nevertheless, you chose to go abroad to a completely foreign country to study. What motivated your decision to come to GW?
I didn't want to go on the same road parents and school set for most students: getting into a good college then find a steady job. I don't want my life to be like that so after I took the TOEFL test and made sure I had the ability to apply for American schools I started my applications, and I got 7 offers out of 9 schools I applied for. GW is the only one that's in city and it has a good reputation.
Question 2: Your major is Interior Architecture and Design. What began your interest in it? How artistic where you when you were younger?
I liked drawing ever since I was a kid. I barely took any art class because it was considered a waste of time, but I still liked to doodle and sketch. I wanted to do architecture for undergraduate but I didn't really have an idea what it really was so I wanted to try interior design first.
Question 3: When you're designing, what's your biggest influence or source of inspiration? What's your favorite thing to design?
There's not really a typical inspiration. I take inspiration from everything. It's more dependent on the project type. I like retail design more than residential design because the designer gets to show their ideas more rather than just following client demands.
Question 4: Ideally, what do you want for your future in design?
I prefer architecture more than interior design, because as an interior designer we don't get to influence the exterior or the overall structure of the building. Plus architects make more money. Maybe I'll try industrial design or illustration if I have time.