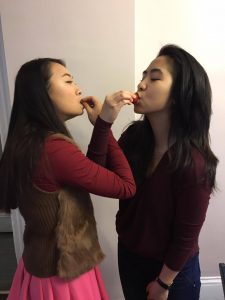 Written by Priscilla "SABER" Huang
If you google "other names for Valentine's Day", names such as: "single awareness day", "raised expectations day", "feel inadequate about your love life day" immediately pop up. It seems like Valentine's Day are dreaded by the single and loved by the "in-relationships". Yet, Valentine's Day is much more than just romantic love. It is a day to celebrate every kind of love: family love, friendship love, pet love, pizza love(?) etc..etc…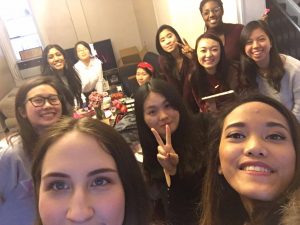 And of course, Valentine's Day is also a day to celebrate sister love. On February 10th, Sigma sisters gathered at the Sigma house for our Sigma Sweethearts event put on by our lovely Social co-chairs, Elise and Natalia. Upon walking into the house, sisters are greeted by the enthusiastic social chairs and sisters dressed in different shades of red, with love songs blasting from the speaker. On the table, bowls of chocolate, candies and strawberries, enticing prospects, waited to be eaten.
First activity: Sigma Sweethearts, the Valentine's Day equivalent of Secret Santa. Sisters gathered around the table in anticipation of meeting their Sigma Sweetheart. Everyone looking excitedly at the array of gift bags on the table. As the Social Chairs gave the signal, each sister grabbed their gift bag and turned to find the gift's recipients. Happy laughters of surprise filled the house, contagious.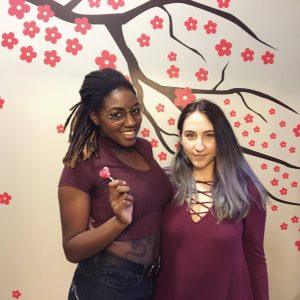 After the gift giving, the social chairs announced the activities for the next hour. Starting off with a bonding event to bring sisters closer together. This particular activity involves the art of eye contact, intense eye contact. Sisters were paired off in twos, instructed to look at each other in the eyes for two whole minutes, and at the very end, give each other a compliment. Nervous laughters broke out as sisters settled into a comfortable position and looked at each other. Though a little awkward, it was definitely a bonding experience. The entire atmosphere of the house visibly felt even more relaxed after.
T
he next hour consisted of various games. The first, taking a Pocky stick, sisters paired off in twos again and competed to see which pair could bite their Pocky until getting a small piece. The pair with the smallest piece of Pocky left wins. The next game was the extremely difficult activity of passing a piece of card in a circle using only our mouth. After many failed attempts and lack of breath, the sisters decided to move on to the last game, Never have I Ever : Valentine's Day Edition.
Thanks to the creativity and effort of the social co-chairs as well as the participation of the sisters, this was an unforgettable Valentine's Day. And a reminder to us all, Valentine's Day extends beyond romantic love.