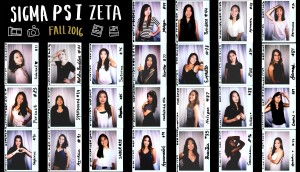 Hi everyone! Welcome back to the George Washington University. We wish all of you had a fantastic summer and are prepared for a spectacular year. Keep an eye out for Sigma events!
Rush is starting today, and whether you are just DYING to come rush or you're still a little iffy about rushing, just come out to events!
Our first Rush event is our General Information Meeting (GIM I), and we're throwing it way back to our childhood memories. At our first GIM, not only will you be meeting the sisters, learning about what it means to be a Sigma and what kind of sorority Sigma Psi Zeta is, you'll be enjoying a wide array of free and delicious childhood snacks.
But that's not all. For the next two weeks, we've organized a variety of different rush events for you to enjoy, to meet our lovely Sigma sisters, and learn more about our sisterhood. From complimentary bubble teas, to crafting your own dorm decoration and getting career advices from our sisters, not only will you be having fun and learning about Sigmas, you'll be getting a taste of what's it like to be part of our eternal SYZterhood.
Everything is absolutely free, non-binding and most importantly, it will be memorable. Rush is a great way for you to understand the ideals of Sigma, what we stand for, and who we are. Come and create your own Sigma memories. Persuaded? Come out to meet our Sigma sisters, we are all excited to meet you!