On February 28, 1994, the Founding Mothers of Sigma Psi Zeta sat down together to discuss their common goal. They all aimed to establish an organization that encompassed the strength of today's Asian-American woman and her potential for making an impact on the world around her. They came together as friends, realizing the apathy towards Asian women and the dual-disadvantage for being "The Silent Minority."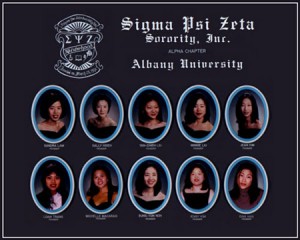 On March 23rd, 1994, the State University of New York at Albany formally recognized the sisterhood of Sigma Psi Zeta. This signified the birth of many firsts. Our Alpha Chapter was established on that date, as well as the birth of the first East Coast-based Asian sorority. The Founding Mothers struggled to establish our organization, our purpose, and most importantly, a precedence by fighting the odds.
Since its inception eighteen years ago, Sigma Psi Zeta has grown to include additional sisterships with members who have pledged to uphold the same beliefs as our Founders in twelve states and twenty-three schools. Growth has been steady, but expansion in numbers has never been favored over strengthening from within. From this small group making up the first chapter, Sigma Psi Zeta has remained steadfast throughout its history, forward to the continued growth of a sisterhood which keeps pace with the ever-changing nature of the collegiate world and contemporary Asian society.