2017 marks a series of dramatic changes. It hasn't even been a full month and Sigmas have already been busy with a new president (for the US and for GW), the Women's March on Washington, and the beginning of a new cycle for Sigma Psi Zeta classes! The Alpha Alpha class marks the beginning of a new generation of Sigma sisters that will take us into a new era of sisterhood, so come out to Rush and be a part of this historic moment!
Here at GW, the Pi Chapter of Sigma Psi Zeta holds Rush every semester, which consists of 2-3 weeks of various activities, to introduce new girls to the sorority and prepare for recruitment of a new class of sisters. We began yesterday with our first event which was a GIM or "General Interest Meeting." All events are free and non-binding.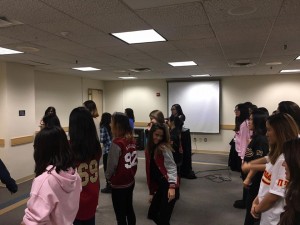 Last night, we started off with our first event, Let Loose, which featured our lovely Performance Chairs, Natalia and Renea. Together, Rushees and SYZters learned a new stroll choreographed by our Performance Chairs and had a blast goofing off and looking great! During the event, we got some great tips from our Performance Chairs, including "Don't look dead" and "Mess up with swag." Meanwhile, we learned what it means to be a Sigma and the history of our organization!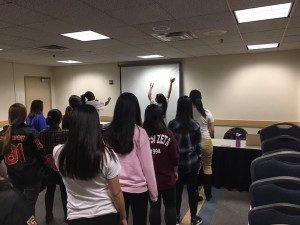 Strolling is a multicultural Greek tradition that originated with African-American collegiate organizations in 1920s and has evolved and grown to include all members of the Multicultural Greek Community. Here at GW, you can find Sigmas strolling at many of the events we hold and participate in including the MGC Block Party, Asia Night, MGC Showcase, and PDPSi and LPC's Annual Cook Off! Check out some videos of our strolls on our YouTube page!
Interested in learning more about Sigma Psi Zeta?  Our next Rush event will be Thursday at 6pm in the Sigma Psi Zeta House, located at 2206 F St. across from the Smith Center next to the Catholic Center and &Pizza! We will be giving each other henna tattoos in honor of traditional Indian bridal ceremonies!